Then and Now: Visiting Acoma Pueblo (Sky City)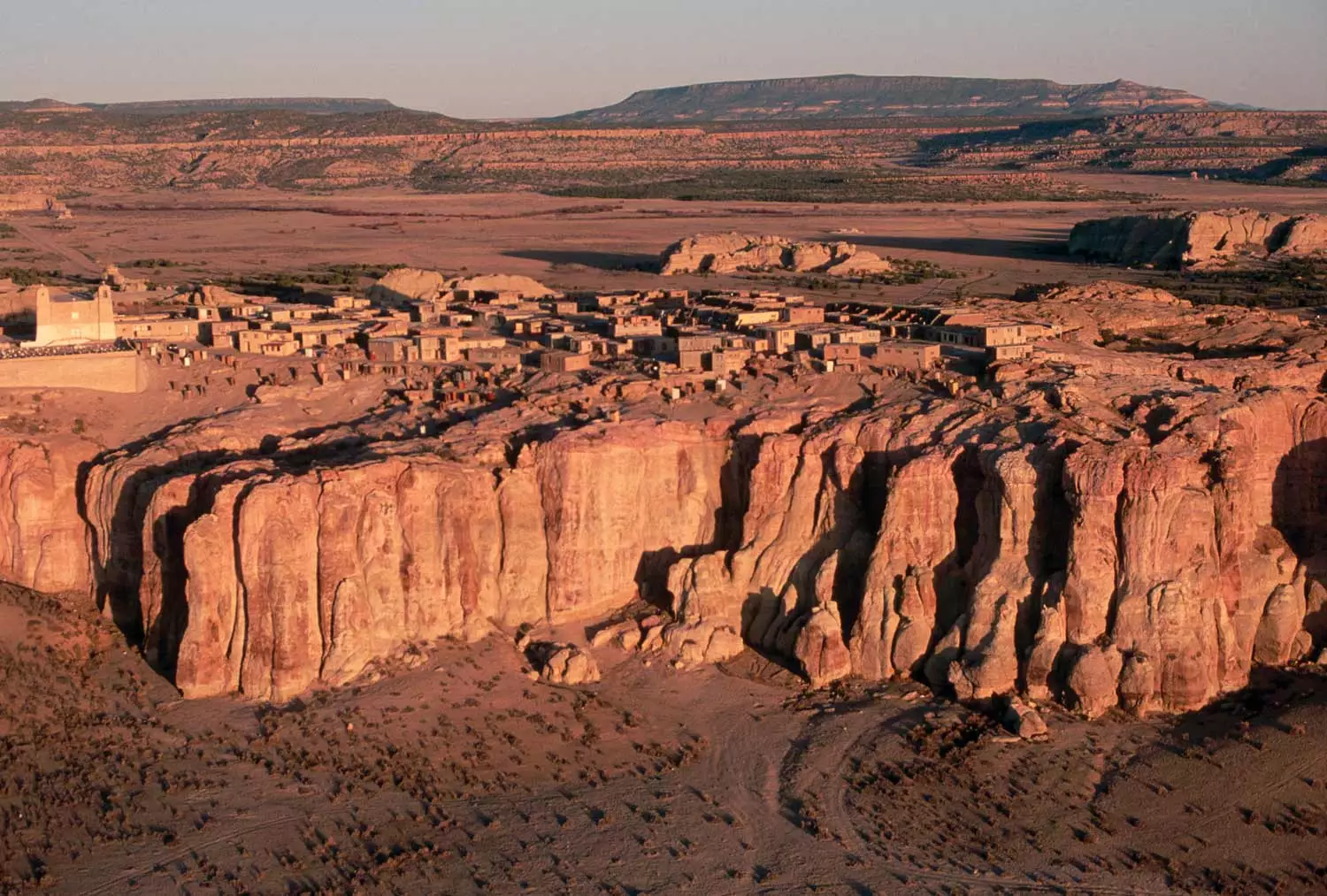 Then and Now: Visiting Acoma Pueblo (Sky City)
Sky City is the perfect description for Acoma Pueblo, an ancient sacred place west of Albuquerque atop a 367-foot sandstone bluff, which is home to New Mexico's southwest Indians. Acoma Pueblo is believed to be the oldest continuously inhabited community in North America, since 1150 A.D. Today the settlement is known worldwide for its unique art and rich culture.
History
The Acoma people who founded the community chose the site in part because of its defensive position against raiders. In 1540, the Spanish conquistadors arrived, looking for gold. Their first encounter was peaceful, but, in 1599, the Spanish attacked the Acoma people, killing many.
In 1629, the architectural masterpiece, the San Esteban del Rey Mission, a Catholic facility, was built by the Acoma people under Spanish direction. Spanish friars then suppressed tribal beliefs and replaced them with Christianity, leading to the Pueblo revolt of 1680. While the Catholic faith still has a strong presence, Acoma beliefs, song and ceremonies dominate. The Acoma people have woven Spanish, Mexican and American culture and influences into their lives.
Today
The village covers 431,664 acres with 250 dwellings and is home to about 50 tribal members, now more of a ceremonial site than a full-time place of residency. Nearly 3,000 additional tribal members live in the nearby villages of Acomita, McCarty's and Anzac.
The centuries-old art of making Pueblo Indian pottery is carried on today by Acoma potters. The pottery is internationally known for its beauty and quality craftsmanship, with fluted rims, thin walls and geometric designs. Rainbow bands, parrots and deer with a black and brown motif and geometric patterns make the pottery distinct. Just as their lives have changed over the years, current artists have incorporated new, bright and vibrant colors.
New Mexico tourism plays a large role in Acoma's growth and well-being. The Pueblo of Acoma established the Acoma Business Enterprises 25 years ago to sustain the economic development of the area. Companies include Sky City Casino and Hotel, an RV park and a travel center. A cultural center and Haak'u Museum provide insight into the history of the Acoma Pueblo. Native Acoma guides conduct tours of Sky City.
Location
Southwest of Mariposa and west of Albuquerque, the 79-mile drive to Acoma is among New Mexico's most scenic and historic, with breathtaking views and amazing rock formations.
For more information, visit https://www.newmexico.org/places-to-visit/native-culture/acoma-sky-city/.
Looking for a new home or custom homesite near Albuquerque? Nestled among the foothills of Rio Rancho, Mariposa is a master-planned community just 30 minutes north of Albuquerque. Mariposa is designed for living naturally and offers a fully-equipped fitness center, resort-style indoor and outdoor pools, parks, sports courts, miles of trails and abundant open space and endless views at the Mariposa Preserve and surrounding mountains. Learn more at https://liveinmariposa.com/